O
ur next spot is the
London Dungeon
, yay! It's one the place that I was really looking forward to go. I always wanted to go to a haunted house, and scream my head off. Too bad, I never got the chance to go to any haunted house in Malaysia. We were greeted by ugly, hideous looking monsters wandering outside the dungeon, giving out the flyers to people. I must say they did a really good job with costume, make up and everything. They're really scary! Imagine each time you put your head up and saw monsters..eeee... just look down, look down..and keep walking.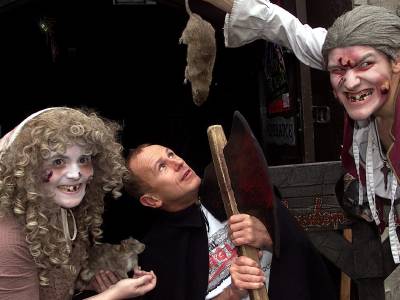 They put a lot of scary, disgusting looking puppets all around the dungeon with information written about them. Unlike the haunted house in Malaysia, which mostly about mythical ghosts -pocong, pontianak, langsuir, hantu Kak Limah and whatesover- whose histories are unknown, London Dungeon shows the horror of a historical event which really take place in London. They have sections for Jack the Ripper, Sweeney Todd, Bloody Mary, and other horrifying events (the plague, the big fire) that happened in London during the last 1000 years ago. So, their 'ghost' are all factual and educational.
live demonstration.




It's really funny how they scare us. One of the actor want to perform an operation and called one lucky audience to step forward. He tied the guy and pick up a knife, and he swings the knife as if he wanted to cut off his hand and pop! the light went off and all of us can feel a sprinkle of water on our faces and hands -like it's his blood that sprayed on us.(but it's fake, of course!)
Scary? I don't know. It really depends on you though. I don't really get scared easily with horrifying puppets, fake blood, dark and smokey places. I mean, they're all fake and made up, right? But there's this one white boy, age around 14, looking all tough but actually as scared as a mouse! I remember when the actor wanted to give the information and she asked the people to come closer, and he's like "No, I'm scared!" and I was laughing hysterically in silence. I noticed that his Dad got so embarrassed and he's like "I want you to stop that!". Omg, she's not going to bite you or anything, she just wants to tell a story!
The boat ride was the best of all! I really like it, although we all got wet a lil bit, and there's an actor, suddenly jump onto our boat and got everyone screaming like mad.
The last one is the most wicked of all. They asked us to sit on line of chairs, lift the chairs up to the sky, and we saw judges suddenly giving out a death sentence, and then, they released the chairs and drop us down. Omg. I really, really screamed my lungs out ,little did I know that they will take our pictures. And guess, how 'preetty' we all look in the picture?
useful tip: Don't go to the dungeon with your boyfriend, it's embarrassing.
I must say
our trip to London Dungeon is really awesome. Like I said, I can stand all those gross puppets, but I get scared easily by sudden loud noises, people jumping at me, and unexpected things falling and sprayed on me. So, I did scream.. a lot. I definitely would
love
to go to this place again.. but maybe I'll skip that last bit.
London Dungeon, check!